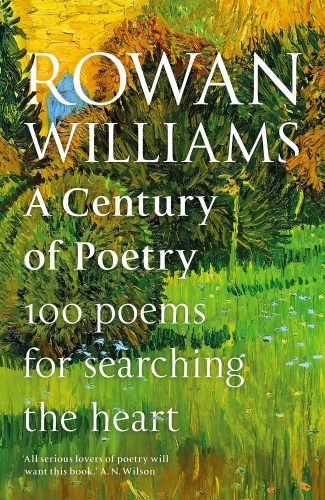 SPCK
Hardback
ISBN 978 0 281 08552 1
£19.99
375 pages
Poetry has always been an important part of my life. It has been a vital source of nourishment at certain times and seasons; although neglected at certain stages of my life, it keeps drawing me back like a magnet.
There is something about the compression of profound thoughts and feelings into ordered lines that helps me join the dots of my own experience. It was therefore a delight to open this book of 100 poems from the last 100 years or so, gathered lovingly by Rowan Williams, the former Archbishop of Canterbury.
Each poem is accompanied by a brief but illuminating reflection by Williams that introduces the poet, and seeks to uncover what is going on in the poem. Poetry is so personal as it involves the poet pouring their very life into the lines, so having a window into their lives is a great way into their poems.
All of these poems have a spiritual edge, and Williams explains of the nature of the genre of a poem. Not all the poets are Christians, or even religious but they all help the reader reflect life that is more than we can see, touch or own.
Williams writes about one of the poets, who has a Hindu background, who lives in the final home of the great poet George Herbert. Vikram Seth writes with echoes of Herbert's work and "prompts some lingering on the frontier of 'sacred' and 'profane' experience, some questioning about how porous these boundaries are".
If you like poetry and are interested in how to see hints of God in the creativity of great poets, get this book and savour each moment.
John Woods is a writer and Bible teacher based in West Sussex. He is Director of Training at the School of Preachers in Riga, Latvia.