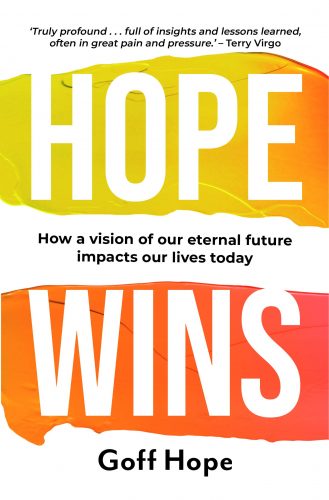 Authentic
ISBN 978 1 788932769
£10.99
161 pages
I guess that you might well have a head start writing a book about hope if your name is Goff Hope: hope by name and hope by nature! Yet what shines through this book is not nature (hope springs eternal in the human breast), but the supernatural reality of a hope that shines even on the darkest day, a hope that is steadfast and certain when everything else is shaken and is an arrow of promise when all other coordinates in life have disappeared.
The author writes clearly, simply and honestly about his own experience of dealing with prostate cancer and the untimely death of Ali, his daughter. He unfolds his story in a way that helps us to see the hammer blow impact of difficult experiences in life, while at the same time observing how God reveals his gracious hope that is sufficient for him.
This book presents an uncomplicated engagement with the nourishing words of Scripture and the benefits of many years of reading widely in Christian literature. If you are experiencing times in your life where it seems that your feet are slipping away beneath you, and hope is fading; this might be just the book for you.
John Woods is a writer and Bible teacher based in West Sussex. He is director of training at the School of Preachers in Riga, Latvia.